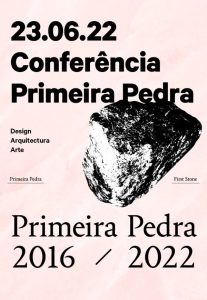 Valadas Coriel & Associados (VCA) was one of the sponsors of the celebration of the First Stone project, which will take place on June 23rd in Lisbon.
The celebration will start with a Conference at the Tivoli BBVA Theatre, taking place between 10am and 5pm, and will end with the inauguration of a major retrospective exhibition at the National Coach Museum. This exhibition will be open to the public from June 24th to September 25th, 2022.
Six years after the debut of this cultural research programme, at the 15th International Architecture Exhibition of the Venice Biennale in May 2016, and after the materialisation of numerous presentations in various parts of the world, the Portuguese and international public will be able to get to know the set of more than 70 works produced in Portuguese stone by the respective national extraction and transformation industry. Throughout this period, this Portuguese material, sustainable and of great importance, was the creation material for 36 authors – architects, designers and artists – from 15 different nationalities.
On June 23rd, more than two thirds of the 36 authors of First Stone will be present in Lisbon together with several of the national and international partners of this project, which has been shown in a segmented way through exhibitions or installations in some of the most prestigious institutions and cultural events in cities like Venice, Milan, Weil am Rhein, Basel, São Paulo, London, New York and Dubai.
The First Stone project has been sponsored by VCA in the provision of legal services, on a pro bono basis, within the scope of its programme of support for cultural activities.
Find out more about this project here.