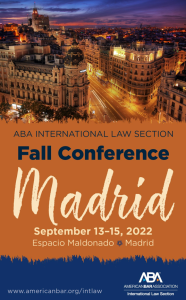 João Valadas Coriel, the Managing Partner of VCA, is currently in Madrid until September 14th, attending the 2022 ILS Madrid Fall Conference – Europe and The Americas-Synergies and Challenges.
This conference was organised by the American Bar Association (IBA), a voluntary association of lawyers and law students in the United States, which aims to set academic standards for legal schools and formulate an ethical code for law-related issues.
The International Law Section of ABA aims to examine shared and divergent legal systems, the future of the profession, groundbreaking topics, modern practice areas, recent advancements, and current trends in Europe, Latin America, the Caribbean, and North America.
Find out more details of this conference here.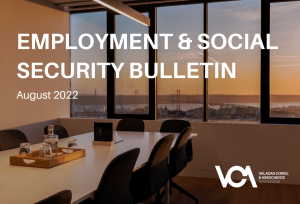 Sections in the August edition
Legal Alerts
Case Law Highlights
Read here the full August Employment & Social Security Bulletin
For further information please contact:
Hugo Martins Braz
hugomartinsbraz@valadascoriel.com
&
Tiago Lopes Fernandez
tiagolopesfernandez@valadascoriel.com