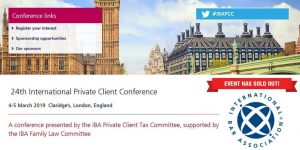 João Valadas Coriel, VCA's managing partner, is attending the 24th International Private Client Conference, organized by the International Bar Association (IBA), which is taking place in London between the 4th and 5th of March.
This conference is presented by the IBA Private Client Tax Committee and supported by the IBA Family Law Committee, and is characterized by the discussion of topics such as private wealth management, investments, inheritance, among others.
The event takes place at the Claridge's Hotel London.