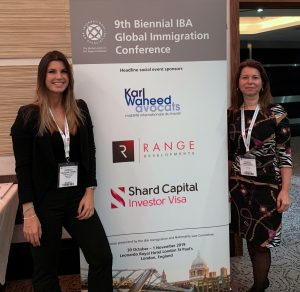 Sandra Jardim Fernandes, VCA's Of Counsel attorney specialized in Immigration, Foreign Investment and Real Estate Law, will be one of the guest speakers at the 9th Biennial International Bar Association (IBA) Global Immigration Conference, which is taking place in London, at Leonardo Royal Hotel London St Paul's, from October 30th to November 1st.
Sandra Jardim Fernandes will participate in the first panel of the last day of the event, dedicated to "Citizenship Programmes and Golden Visa", moderated by Nick Rollason, Partner in charge of the Immigration Department of Kingsley Napley LLP. Patrícia Valadas Coriel, one of VCA's Immigration Department attorneys (left in the photo), will also be attending the conference.
The  CBI and RBI "market" – citizenship through investment and residency through investment has been under scrutiny by the OECD (Organisation for Economic Co-operation and Development) and the European Commission. Recently the ARI Portuguese programme – Authorization of Residency for Investment – was considered compatible – compliant – with the rules and principles of these two institutions, while the CBI programs of Malta and Cyprus were considered "non-compliant", which means that they lend themselves to abusive and non-transparent practices.
Immigration, populism and the future of work, the attraction and retention of talent, illegal behaviour that often prevents entry into foreign jurisdictions, and migration into the European Union, will be other issues under discussion.
IBA is an international association that brings together national bar associations and organisations, as well as lawyers and law firms. Founded in 1947, it influences the development of international law and contributes to the improvement of the legal profession worldwide. Currently, it has more than 80,000 individual lawyers, and about 190 national orders and organizations of lawyers, from 160 countries.