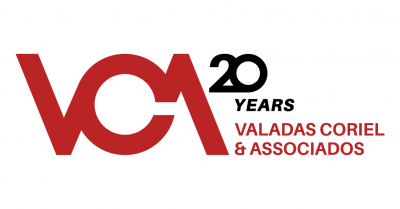 Valadas Coriel & Associados ("VCA") celebrates two decades of activity this year. With presence in Portugal (Lisbon and Funchal) and Ivory Coast (Abidjan), VCA stands out for the services it provides in the areas of Private Wealth (Private Clients), Real Estate, Immigration, Tax, Labour, Corporate, Litigation and Dispute Resolution – an area in which it has just been distinguished, for the 5th consecutive year, by the Legal 500 directory (EMEA Edition). 
João Valadas Coriel, Managing Partner of the firm, makes a very positive assessment of these 20 years: "We have been on a journey of which we are very proud. We started out as a small boutique in Chiado, specializing in litigation and corporate matters. We were mostly trial lawyers. Today we have built a name in the domestic and international market, not only in these areas but also in others where we have developed expertise".  João Valadas Coriel further states: "An example are the areas of Immigration and Private Wealth (Private Clients), two areas that, especially over the last 3 years, have attained exponential growth despite the adverse conditions, in particular, during 2020". The Lawyer reveals the secret of success: "Our heritage is our human capital. We have an exceptional team, professionals of the highest technical and emotional quality who, faced with the challenges imposed by the context, have managed to reinvent their relationship with clients, half of whom are located abroad". And he adds: "In the last year, we've upscaled offices (we are now in a fantastic space, on the top floor of Amoreiras), we've established a presence in Madeira (in partnership with the law offices of Kelly Silva Nunes and Cristina Gouveia e Freitas), we've strengthened our partnership (with the election of Patrícia Valadas Coriel) and our team (legal and administrative), we've increased our turnover by 13% and we have consolidated our internationalization strategy by integrating the Grimaldi Alliance". In conclusion, João Valadas Coriel says: "We will continue to turn difficulties into opportunities. We have learned a lot about reconciling personal and professional life and how fewer hours in the office can result in more productivity and creativity. We have been able to have an increasingly intimate relationship with clients and have received very positive feedback on our recent evolution. By 2021, we expect to hire and integrate a significant number of lawyers and paralegals into our team. In this market, you either constantly evolve or you get left behind. We want to be at the forefront".
Founded in 2001, VCA currently has a team of 6 partners and more than twenty lawyers and Of Counsels.