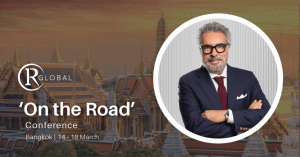 João Valadas Coriel, Managing Partner of VCA, is attending the IR Global 'On the Road' Conference, in Bangkok, from today until March 18.
'On the Road' is a biannual series of events split between the Americas and Asia/Pacific, focusing on relationship development and providing quality time for members to connect and learn about each other's practices. Thailand's location in the heart of Asia is a thriving, global marketplace with a strong IR local member base.
IR Global is a professional service network, dedicated to helping members provide world-class legal, accountancy and financial advice to companies and individuals across 155 jurisdictions.
Explore the conference's programme here.
#IRBANGKOK23